Posted by
Maegen Foster
on May 19th, 2015 in
Just for Fun
|
7 comments
So… I read blogs. Shocking right? Anyway, I caught the end of a blog train a few months back on Feather's Flights, and thought, "how fun! I want to be a part of something like that!" So I emailed Agy, who was the mind behind the blog trian, and asked if she was going to do another one any time soon.
*oh, and making good totally puts me in mind of a line from a Wicked song. Complete tangent, but that's what I'm humming while I type.*
Anywho… Yesterday the blog train stopped at Super-Hippie Eco-Person with a Dragon, and tomorrow it will be at Juicy Green Mom. I loved Judith's post about starting seeds.
So Mackathanial has recently really gotten into listening to music and books.  He loves youtube music videos, and his CDs, but he really loves his books on tape. I found 3 books on cassette and a tape player at a thrift store, and they very quickly became his favorite things to listen to. But then, tragedy struck. The Badenator got into the tapes. A Color of His Own was completely destroyed, torn into about 7 long, stringy pieces. Alligator Baby had been snapped just in one place, right near the end of the tape. I had a feeling it could be saved, so I gave it a go.
We start with a broken tape.
A sad, sad broken tape.
Cut your ends so they're neat and square.
Place one end on a little bit of cellophane tape.
Overlap the other end.
Wrap your tape around on both sides.
Wind the tape back in and play your fixed cassette! Ours is a little finicky, and won't play over the repaired portion, but it works well enough, and we didn't lose any of the story.
I'm hoping to keep the Badenator out of the tapes from now on, so I don't ever have to make repairs again, but I definitely would if another tape was broken in a similar way. The tapes are so much fun, and Mackathanial will be getting a few  more for his birthday (yay ebay!). It's always important to me to not waste, but it's especially important to find a way to repair things that are not easily replaced.
This post is part of a blog train hosted by Agatha from Green Issues by Agy on "Making Good".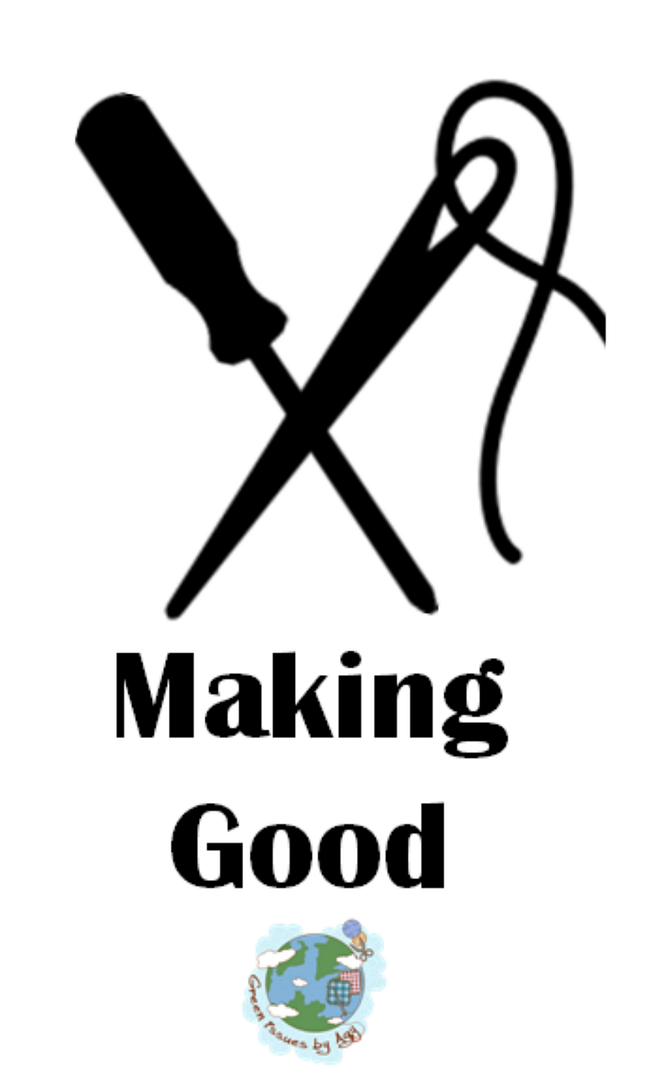 What is repair, and why do we even bother to repair the things we have?  Some see repair as a way of reconnecting with our possessions as we extend their lives. Others see it as a form of creative potential and an avenue to express their craft.  The rewards for mending varies from feeling immense satisfaction to prolonging the life of the product. Follow the "Making Good" blog train this month and see what we have repaired and reconnected with. Have you mended anything today?